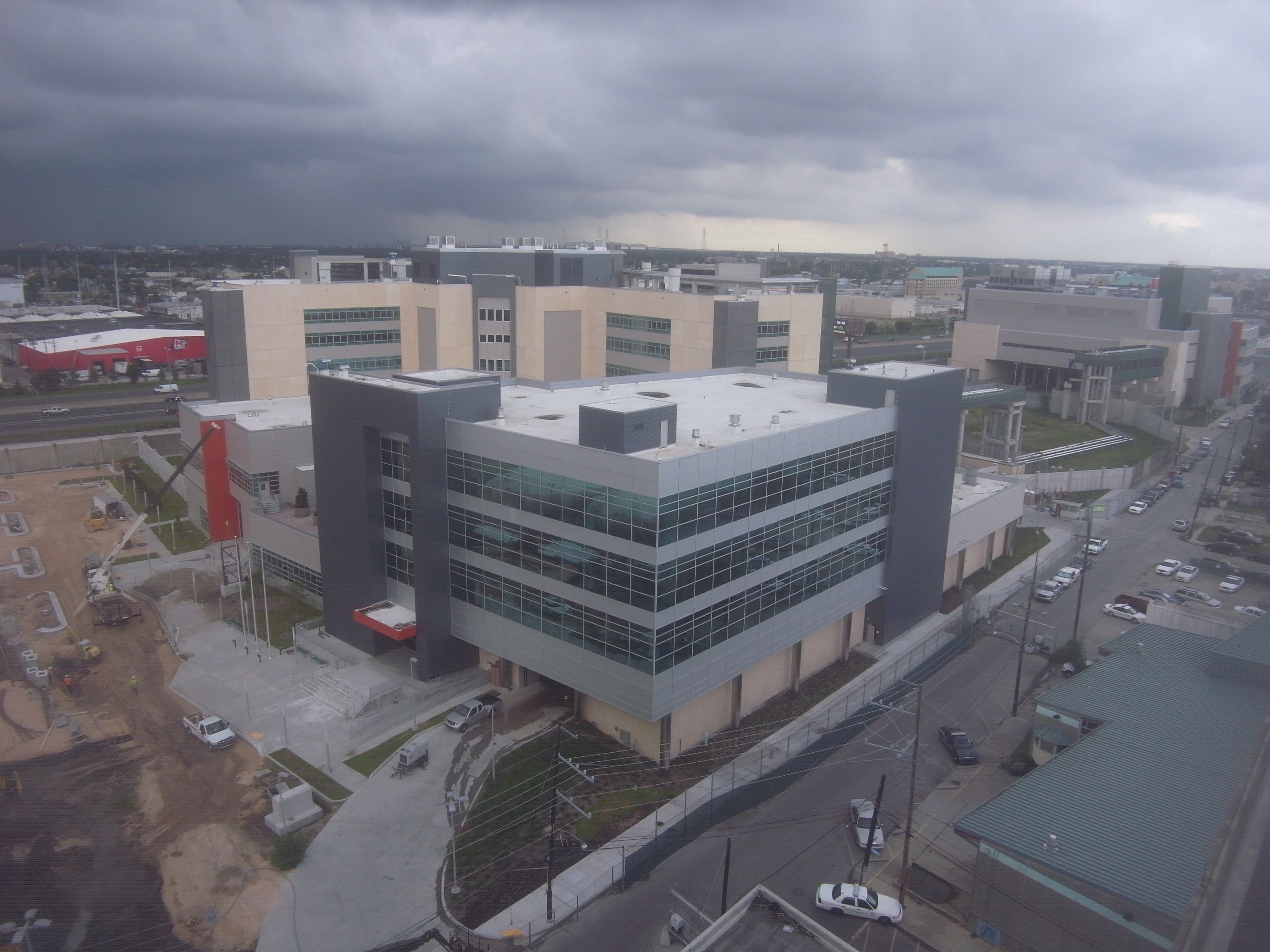 OPSO's Intake & Processing Center/Templeman III & IV Replacement
OPSO Re-Entry Program
NEW ORLEANS - 9-2-2015
The Orleans Parish Sheriff's Office today has been granted a temporary certificate of occupancy by the city's Office of Safety and Permits, paving the way for the Sheriff's Office to begin the process of moving inmates into the new jail facility. The target move-in date is Sept. 15.
"The Sheriff's Office has maintained from the beginning that the new inmate housing facility complied with the conditional use ordinance. We are pleased that the city administration has finally agreed with our position," said Sheriff Marlin N Gusman. "
Sheriff Gusman noted that the city's action comes a day before a scheduled court hearing on the certificate of occupancy and is reminiscent of the city withdrawing its filing in July over the stop-work order. "Yet again, the city is engaging in brinksmanship that they ultimately abandon on the eve of facing a judge," Sheriff Gusman said. "These antics cost us roughly seven days of progress at a time when we were rolling towards meeting the September 15 deadline."
The "Phase II" facility, which is a replacement for buildings destroyed during Hurricane Katrina, can accommodate any type of prisoner as contemplated by the 2011 conditional use ordinance.
The Sheriff's Office moved forward on the replacement project after the City of New Orleans failed to build new jail facilities despite a Louisiana law that requires the city to provide the Sheriff with "a good and sufficient jail."
The city administration issued a temporary certificate of occupancy and directed contractors to correct two minor building items by Sept. 25. As those building items are being corrected, the Sheriff's Office is making plans to occupy the building by Sept. 15, possibly sooner.
FEMA has already provided the city with funds to build a housing facility for the medically disabled, mental health inmates, sex abuse victims and other special populations, but the city has refused to construct that facility, neglecting these vulnerable populations and sidestepping FEMA's intended use of the funds.
NEW ORLEANS - 9-1-2015
Following is a statement from James Williams, attorney for the Orleans Parish Sheriff's Office, regarding City of New Orleans Chief Administrative Officer Andy Kopplin's statements about inmates in OPSO custody and pay raises for OPSO deputies:
"The City and Mr. Kopplin are trying to purposefully distract and confuse the citizens of New Orleans by throwing around erroneous numbers and inflated dollar figures. This city administration appears to be oblivious to the community's public safety needs.
"Today, the OPSO bills for 317 state inmates. Some of these individuals are in the OPSO's custody because they have been sentenced for their crimes and await transfer to prisons outside of Orleans Parish. Others are in Orleans Parish because they are standing trial here, essentially pre-trial inmates.
"The City of New Orleans is legally responsible for housing and paying for all inmates with pre-trial charges under Louisiana Revised Statute 15:304. The city cannot continue to attempt to push its housing obligations upon the State of Louisiana as a result of the courtesy that the state extends to paying for inmates pending probation or parole revocation yet incarcerated on new offenses.
"This is another example of the lack of leadership and responsibility, or even a basic understanding of how the criminal justice system works.
"Most importantly, some are part of proactive crime prevention in transitional work and reentry. They are in OPSO custody completing their sentences and work to return to their community -- Orleans Parish. These inmates are trying to get their lives in order, learn a trade and rebuild relationships with their families in Orleans Parish, all so they do not return to jail.
"The city is responsible for building a good and sufficient jail. What is their plan to house inmates with acute mental health needs?
"The Metropolitan Crime Commission is an independent group with extensive knowledge about our city's jail system. They have called for a building of this type for years now. Staffing a building of this type would cost $4.5 – $6 million per year. We have presented this information to the city multiple times.
"This administration's track record with the New Orleans Police Department speaks for itself. Public safety must be the top priority.
"We are at the finish line with our new inmate housing facility. This press conference is another attempt to distract.
"The next steps are simple: (1) give the OPSO the certificate of occupancy it has earned and the city agreed to in court more than a month ago; (2) move into this new building as safely and securely as possible; and (3) fund the pay raises."
Victim Notifications & Programs
Crime Victims Programs
Victim Notification
ICE
Notification System
Crime Victims
Reparation Program
Elderly Victims
Assistance Program
Louisiana Victim
Notification System
Public Bids
Top Headline
Other Headlines
If you have a medical question about an inmate, call the Medical Inmate Advocate at 504-822-8000, ext. 4134.
The Medical Inmate Advocate is an experienced OPSO nurse who will investigate your concern and call you back. If you wish to provide medical information about an inmate, call the Medical Inmate Advocate. Medical confidentiality is maintained, but your concerns will be addressed.
Programs for Public Benefit
Harmony House
The OPSO Harmony House addresses the needs of parent, child, the courts, and the communities of New Orleans and the surrounding metropolitan areas by providing a safe, supportive environment for Supervised Visitation and Monitored Exchanges with equal regard for parent and child safety.
Young Marines
The OPSO chapter of the Young Marines is in partnership with the national Young Marines program. Youth under the age of 18 enroll for drill, games, field trips, and education.
West Bank Major Crime Taskforce
Deputies assigned to this task force focusing on major crimes and narcotics enforcement on the West Bank.
United States Marshals Task Force
OPSO also participates in US Marshal task force activities, focusing on the apprehension of violent criminals in the Greater New Orleans Area and monitors registered sex offenders in Orleans Parish.
The Great Body Shop
The Great Body Shop program is a school-based program which covers drug prevention, health, bullying, emergency situations, nutrition, and other topics for youth from kindergarten through twelfth grade. Materials and training are available from OPSO.
Sheriff Marlin N. Gusman's Supervised Visitation Center
This program is in partnership with Harmony House and provides non-custodial parents a safe drop-off and/or visitation area.
Juvenile Curfew Center
OPSO maintains the Orleans Parish Juvenile Curfew Center in conjunction with the New Orleans Police Department. Youth under the age of 18 are brought to the facility when they violate City of New Orleans curfew laws and are held in a non-secure environment until a parent or guardian arrives for them.
Elderly Victim Assistance and Victim's Assistance
This program is in partnership with the State of Louisiana Victims Assistance Board and provides limited funding and assistance to elderly or non-elderly victims of crime.
Drug Abuse Resistance Education (DARE)
DARE is a school-based drug awareness and prevention program for youth. OPSO's main focus is sixth graders through high-school.
Criminal Patrols
This program focuses on outstanding warrants for violent crimes. Persons wanted for violent crimes are targeted and arrested for public safety. This program is grant funded in partnership with the Louisiana Commission on Law Enforcement and focuses on proactive crime prevention in high crime areas and the apprehension of wanted fugitives.
Presentation to Mayor's Committee
Criminal Justice Working Group


City Council Presentation
2015 Budget Presentation