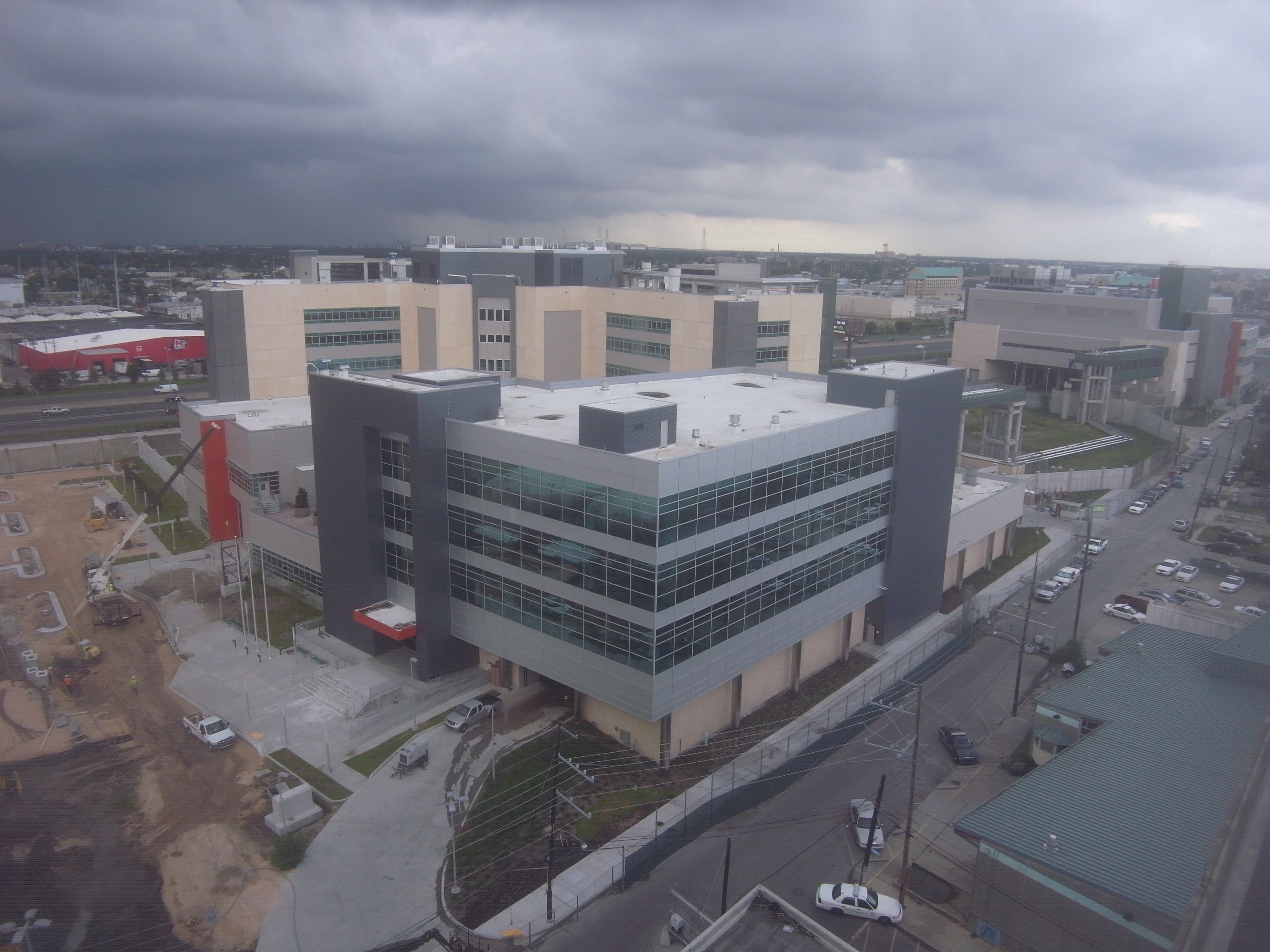 OPSO's Intake & Processing Center/Templeman III & IV Replacement
OPSO Re-Entry Program
NEW ORLEANS - 10-5-2015
Following is a statement from James Williams, attorney for the Orleans Parish Sheriff's Office, regarding statements about the housing of state inmates in the OPSO custody:
"We appreciate the vision and leadership that Councilmembers Brossett and Ramsey showed in opposing this resolution.
The City Council is misinformed. Based on the constant crime activity occurring in our community, this action by the Council raises a question about whether they are oblivious to this city's public safety needs.
Today, the OPSO houses and cares for 331 state inmates. These individuals are in the OPSO's custody because they have been sentenced for their crimes and await transfer to prisons outside of Orleans Parish. Others have been transferred to Orleans Parish from other prisons because they need to stand trial here.
Perhaps most importantly, the remainder are in OPSO custody as they complete their sentences and work to return to the community from where they came – Orleans Parish. These inmates are trying to get their lives in order, learn a trade and rebuild relationships with their families in Orleans Parish. All so they do not return to jail.
The Council seems to be joining the Mayor's Office in tossing these individuals away.
The City's track record with the New Orleans Police Department becomes more evident each day. As criminals continue to wander the streets without fear, the City and the City Council try to manipulate numbers to reach arbitrary inmate statistics. What's worse they act without any regard to doing what it takes to keep people out of jail and give them a chance at a productive life.
The OPSO will not and cannot follow the same path. We have made commitments to the people of New Orleans and to the court. When the City and the City Council neglected to offer any solution in how our inmates are cared for, the OPSO had to take action."
The following is an example of the categories of state inmates in the custody of the Orleans Parish Sheriff's Office on a given day. This example lists the actual inmate count for Oct. 2, 2015:
Total Louisiana Dept. of Corrections inmates on Oct. 2, 2015 = 331
Inmate Category

Number of Inmates

Purpose & Description

Awaiting prosecution for open felony charges in Orleans Parish

82

Inmates sentenced on crimes with outstanding charges pending in Orleans Parish.
Inmates are in custody awaiting trial and/or resolution of pending charges for crimes committed in Orleans Parish.

Sentenced and waiting for transfer

60

Inmates completing trial or plea agreement in Orleans Parish, who have been sentenced by a judge and are now awaiting transfer out of Orleans Parish to a DOC prison.
This is a constant figure as courts process and sentence individuals for crimes in Orleans Parish.
Average daily count of these individuals = 60
OPSO makes weekly runs of these inmates to the DOC.

DOC-funded Reentry Program

114

OPSO operated reentry program that is funded by the LDOC.
Inmates from the metro area who are nearing completion of their court-mandated sentence.
Qualified inmates participate in standard reentry program, which includes family counseling, conflict resolution training, job training and other educational programming.
LDOC pays OPSO $26/day to house these inmates. City of New Orleans pays $0.
LDOC pays for teachers and counselors operating the program. LDOC also pays for deputy time compiled when supervising reentry programming.
Participants in reentry program show 47% DECREASE in recidivism. Double the LDOC goal of 20%.

Transitional Work & Community Service

75

Services provided at no charge to the City of New Orleans:

Orleans Parish Coroner – Inmates available 24/7 to pickup deceased individuals
NOPD – Clean-up at stables – 24/7
NOPD – Cleaning of all police stations – Monday - Friday
Clean-up – Clean-up after all events at Tad Gormley and Pan American Stadiums
Kitchen – Inmate labor used for kitchen operation to maintain low cost of $0.96/per meal
Without these inmates, the City of New Orleans would have to hire individuals or contract these services at an additional cost.

TOTAL

331
Victim Notifications & Programs
Crime Victims Programs
Victim Notification
ICE
Notification System
Crime Victims
Reparation Program
Elderly Victims
Assistance Program
Louisiana Victim
Notification System
Public Bids
Top Headline
Other Headlines
If you have a medical question about an inmate, call the Medical Inmate Advocate at 504-822-8000, ext. 4134.
The Medical Inmate Advocate is an experienced OPSO nurse who will investigate your concern and call you back. If you wish to provide medical information about an inmate, call the Medical Inmate Advocate. Medical confidentiality is maintained, but your concerns will be addressed.
Programs for Public Benefit
Harmony House
The OPSO Harmony House addresses the needs of parent, child, the courts, and the communities of New Orleans and the surrounding metropolitan areas by providing a safe, supportive environment for Supervised Visitation and Monitored Exchanges with equal regard for parent and child safety.
Young Marines
The OPSO chapter of the Young Marines is in partnership with the national Young Marines program. Youth under the age of 18 enroll for drill, games, field trips, and education.
West Bank Major Crime Taskforce
Deputies assigned to this task force focusing on major crimes and narcotics enforcement on the West Bank.
United States Marshals Task Force
OPSO also participates in US Marshal task force activities, focusing on the apprehension of violent criminals in the Greater New Orleans Area and monitors registered sex offenders in Orleans Parish.
The Great Body Shop
The Great Body Shop program is a school-based program which covers drug prevention, health, bullying, emergency situations, nutrition, and other topics for youth from kindergarten through twelfth grade. Materials and training are available from OPSO.
Sheriff Marlin N. Gusman's Supervised Visitation Center
This program is in partnership with Harmony House and provides non-custodial parents a safe drop-off and/or visitation area.
Juvenile Curfew Center
OPSO maintains the Orleans Parish Juvenile Curfew Center in conjunction with the New Orleans Police Department. Youth under the age of 18 are brought to the facility when they violate City of New Orleans curfew laws and are held in a non-secure environment until a parent or guardian arrives for them.
Elderly Victim Assistance and Victim's Assistance
This program is in partnership with the State of Louisiana Victims Assistance Board and provides limited funding and assistance to elderly or non-elderly victims of crime.
Drug Abuse Resistance Education (DARE)
DARE is a school-based drug awareness and prevention program for youth. OPSO's main focus is sixth graders through high-school.
Criminal Patrols
This program focuses on outstanding warrants for violent crimes. Persons wanted for violent crimes are targeted and arrested for public safety. This program is grant funded in partnership with the Louisiana Commission on Law Enforcement and focuses on proactive crime prevention in high crime areas and the apprehension of wanted fugitives.
Presentation to Mayor's Committee
Criminal Justice Working Group


City Council Presentation
2015 Budget Presentation